Fashion Week Style Diaries: Purple's Olivier Zahm, Day 2
Out with the leather, in with the American Apparel hoodie.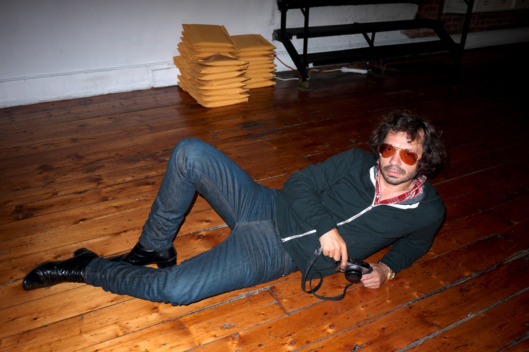 Yesterday saw Purple Magazine's Olivier Zahm stepping out in his signature Mean Streets by way of a discothéque look, tight trousers and leather jacket in place. For his second day of New York Fashion Week, not much has changed ... yet everything has changed. Gone is the leather, replaced by snuggly French terry. The shirt (although by the same designer) feels more relaxed, rendered in weekend-ready plaid. Overall, it's a softer, sportier look, but one that's still Zahm through and through. We hear there's an evening ensemble in the cards for tomorrow, so get excited.
On Olivier: American Apparel "Dov" hoody, Steven Alan checkered sheer shirt, BLK DNM jeans, YSL belt, Ray-Ban glasses, Audemars Piguet Royal Oak watch, and YSL boots.
About the Look: "Casual fashion Friday with my everyday Ray-Ban glasses, Royal Oak watch, and Lumix camera."
See more: Outfit from Day 1