Jersey Shore Fashion Recap: Snooki's Hot-Pink Leopard Dress Works Overtime
That one dress caused all of last night's drama. See it and more fashion low-lights from the episode.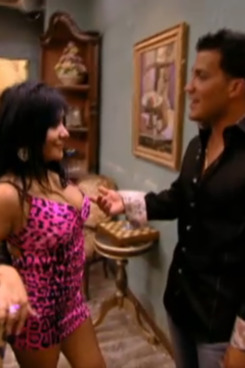 Last night's episode of Jersey Shore was so annoying! You start to think, "how many more scenes of drunk crying tan people in spandex and rhinestones can I watch before it gets TOO annoying?" Well a lot, let's be honest. But the utter obnoxiousness of the drunk tantrums aside, last night's episode was brilliant from a "fashion" perspective, because the crux of the drama rested on a single dress — the hot-pink leopard thing that Snooki wore to the club, which Ronnie said was so short it "looks like a swimsuit," and JWOWW said she "loved." Ronnie and JWOWW were both wrong. A swimsuit would have covered more of Snooki's nether regions than that dress, and JWOWW probably didn't "love" it after it caused Snooki to expose her nether regions whilst dancing on the light-up stage in the club, which in turn caused her visiting boyfriend Jionni to storm out the door, and devolved the entire hour into a documentation of Snooki being drunk and crying. So we owe all of last night's drama to that dress — and clearly not to anyone in or connected to the show's cast being bat-shit crazy. Review some of Snooki's other revealing dresses, Pauly D's sparkle-tee, and more looks from last night's episode in the slideshow.
BEGIN SLIDESHOW