Chris Benz and Johnny Weir Pre-Show Rituals Involve Puppies and Crying
Benz takes a trip to the puppy store, while Weir enjoys a good cry.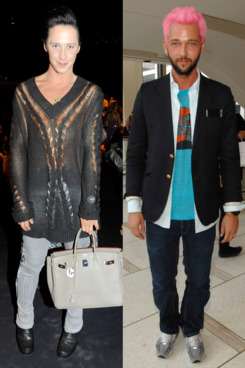 We've already learned this Fashion Week that Diane Von Furstenberg enjoys a good pre-show beer. That got us wondering what other designers do to settle their nerves before a show. Chris Benz, who showed his presentation early yesterday, told The Cut he went to check out puppies before heading up to Lincoln Center. "I feel like I never have anything to do before the show in the morning," he said. "So I went to Pastis, had an iced coffee, went to the puppy store, and then just trucked it up here." Meanwhile, over at Betsey Johnson, Johnny Weir told us that he enjoys a "real good cry" to decompress before taking to the ice. "I think crying makes me really soft and delicate like a little flower, cause all your energy gets drained," he explained. "Then you snap up when those lights come on."
Weir was sitting front-row at Johnson, to support the designer behind his latest Fashion on Ice ensemble. "The costume is wild. It's sort of oil-slick leggings and a fishnet bodysuit, hot pink suspenders and this amazing studded, crazy, sparkly, spiky jacket. And I'm gonna do a Mohawk," he said. Wild indeed, but can he skate in it? "It's just pure sequins," he assured us. "Easy to skate in. Unadulterated sequins."
See Chris Benz's Complete Spring 2012 Collection
See Betsey Johnson's Complete Spring 2012 Collection