Katlin Aas Is Wednesday's Top Model
The 18-year-old model finally gets her due.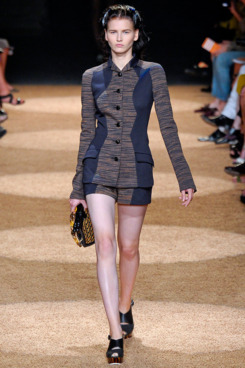 Yesterday's runway coups included Michael Kors muse and runway staple Karmen Pedaru opening and closing the designer's spring 2012 show. Meanwhile, New York Models' Melissa Tammerijn snagged the first look at Philosophy di Alberta Ferretti, cast by Russell Marsh, and her agency mate Juju Ivanyuk closed. But the day's victory goes to 18-year-old Katlin Aas, who opened Proenza Schouler last night. Two years ago, Aas was poised to become the next big thing when she opened and closed Prada's fall 2009 show in Milan, but she failed to really take off. This year, the Estonian model is a face of Missoni, appeared in recent issues of W magazine and Interview, and snagged a prominent role in an exceptional New York Fashion Week showing. See these looks, and more, in the slideshow ahead.