See the Lady Gaga Video That Apparently Failed to Make Up for Her Absence at Mugler Yesterday
Complete with silver buck-teeth and strange threats.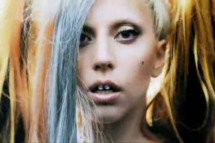 Yesterday's Mugler show garnered lackluster reviews — The Wall Street Journal's Christina Binkley wrote, "It wasn't mysterious. It was a melange of the trends of the past 15 years," while others lamented the lack of Lady Gaga's presence. Of course, Gaga wasn't entirely absent; she appeared in a short film by Inez & Vinoodh that played at the show, which you can see here. She has silver buck-teeth, gray-streaked pigtails, and threatens to eat anyone who angers the Mugler woman.
See the Complete Spring 2012 Mugler Collection
Earlier: Mugler Collection Accused of Lacking 'New Trends'
Smoke, Gaga Aren't Enough at Mugler [Heard on the Runway/WSJ]
MSN Exclusive: Lady Gaga at Thierry Mugler Paris fashion show 28.09.2011. [Youtube]