Lindsay Lohan Continues Her Fashion Week Tear
"Delete those pictures! Delete them right now!"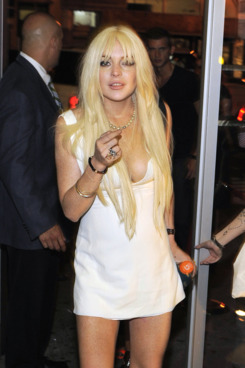 Lindsay Lohan has already caused one ruckus this Fashion Week when she brought a pirate to the Cynthia Rowley show, and last night she struck again. A commotion erupted on the spiral stairs at Beauty & Essex (where Paper magazine and Nine West were celebrating Karen Elson's new shoe and accessories line for the brand) shortly after the model–musician's set ended. Lohan was furiously telling a photographer on the stairs above her to "Delete those pictures! Delete them right now!" as he clutched his camera to him, while your intrepid party reporter watched from above. Eventually, we summoned the nerve to squeeze by Lohan, only to brush her on the way down, causing her to hiss, "don't be a c*nt," before she returned to haranguing the photographer. A few minutes later, two scrums had formed — one of Lohan's friends around the photographer, watching him as he appeared to delete each of the offending photos; the other of Nine West and event staffers, furiously whispering that "she needs to leave."
See Lohan, Elson, Mischa Barton, and More in Our Party Slideshow
Earlier: The Fug Girls: Lindsay Lohan Nearly Causes Riot at Cynthia Rowley