Lynn Yaeger: The Row's Zen Austerity; Alexander Wang's Model-Crushing Backpacks
The veteran fashion critic's first dispatch of the season, also including her takes on Bess, Jason Wu, and Band of Outsiders.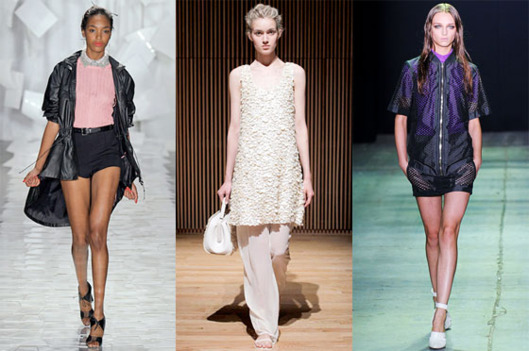 "Definitely Michael Alig–inspired," says the young woman behind me at the Bess show, citing approvingly the club kid/murderer currently doing twenty years upstate. But in fact, this small event on the first day of the spring 2012 New York collections, in the Bess store on Lafayette Street — the former home of Keith Haring's Pop Shop — far transcends that dumb killer's dubious charms. The models include lollypop-sucking Lolitas in skirts whose hems are obscured by Beanie Babies, and bare-chested guys in clown collars, walking a makeshift runway covered with superhero bedspreads. It's a delightfully benevolent vision of transgressive dressing — an exuberant burst of laughter in the dark, a cry of subversive joy in a city that hasn't been the same since 2001 and a fashion industry that has never fully recovered from 2008.
See the Complete Jason Wu Spring 2012 Collection
See the Complete The Row Spring 2012 Collection
See the Complete Alexander Wang Spring 2012 Collection
See the Complete Band of Outsiders Spring 2012 Collection