Meet the New Girl Exclusive: Balenciaga's Runway Star Maria Bradley Once Chopped Her Hair Off and Blamed It on Her Dog
Stumble Upon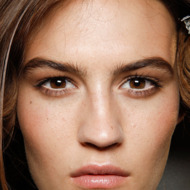 Let's start at the very (although recent) beginning: Seventeen-year-old Maria Bradley made her debut opening Alexander Wang's spring 2012 show in New York, and continued to put in appearances at Tommy Hilfiger and Proenza Schouler. The Wichita native then skipped London Fashion Week to work exclusively with Donatella Versace for her Versace and Versus lines in Milan. And earlier this morning — in what is an extremely rare feat — Bradley booked yet another exclusive for Balenciaga in Paris. Maybe it's her runway-perfect proportions that casting directors can't stop raving about, or maybe it's her laid-back Midwestern personality, but whatever the reason, this American high-school senior just became the premier newcomer to watch. We caught up with Bradley, who's newly signed with DNA Models, for her first-ever interview right before she flew to Paris to work with Nicolas Ghesquière. Read about what it was like to work with Ms. Donatella, what she finds most surprising about the modeling industry, and more, after the jump.
Tell us a bit about your childhood.
When I was young, all I would do is run around with my best friend Hanna, her brother, and my brother Jerry. We ruled the neighborhood. We would fish and play hide-and-seek until nighttime. One of my brothers, Jim, is a cop, and Jerry is studying to be a cop. My dad designs a lot of things in Wichita, like streets, roads, and fountains. He also designed a light sculpture that, every time I pass by, I brag to everyone. My mom did anything and everything for the family — she is always there for us. I know everyone says they want to be like their mom, but once, when I was younger, I even went as far as cutting my hair, just so I could be like her. Except afterward, I hid it in my play kitchen and blamed my dog for cutting it.
How did you get discovered?
My mom modeled and I always saw her pictures and thought they were cool. One day, I was just sitting there and I asked her if I could model. My mom used to work at Models and Images and knew the owner Maryann, so she took me in when I was 14 years old and got started.
Of all the shows you walked this season was anything hard to wear?
Actually, every designer made things really cool and easy [to wear], so there really wasn't anything too crazy.
Several casting directors have remarked on your stellar body, how do you stay fit?
I've naturally always been really thin, and then in high school I played every sport under the sun — not to stay fit, but just to have fun. I can eat mostly anything. I have loved the free breakfast at the hotels here in Milan. I do like to run a lot to burn off some energy, too.
What's one thing that surprised you about the modeling industry?
I was surprised by how many people are so cool. At first I thought everyone was going to be stuck up, but they aren't at all. I also never really knew how much I would love this industry until this show season has taken off. I never thought that I'd want to do this for a long time, but now I do.
You were on exclusive with Versace for the spring 2012 Milan Fashion Week; tell us about that experience.
Having an exclusive is really cool because you get to spend so much time behind the scenes, with the designer and their whole team, leading up to the show. It's a lot of hard work and long hours, but [it's] so cool to see their process and the work that goes into a collection. There are so many people that make the show happen. I also like it because you get to fit almost everything that's in the show, and it's cool to see which models they choose to complete the outfits.
And how was it working with Donatella Versace?
She was more than fabulous, really, and decisive in her likes and dislikes. I loved that she was so into her family and having a family atmosphere. Her daughter, Allegra, was with her, working so hard the entire week. And when we had lunch and dinner breaks everyone sat together; it wasn't cliquish or awkward.
Craziest thing you saw backstage so far?
Forty pairs of mangled model feet.
Last book read?
1984. It scared me.
Guilty pleasure?
Making home movies with my friends on summer days when we're really bored. Who needs to go to the movies when we can make our own?
What scares you?
Being helpless. I would rather have someone hold a gun to my head than not able to do anything at all in a situation.

Tell us something random and totally weird.
I could stare at art forever — not because it's beautiful, but because I want to know what they were thinking when they made it.
What was the last thing you bought?
Pistachio gelato.
You're about to be stranded on an island and you can bring one person and one thing, what would you bring?
I wouldn't want someone I love with me because I wouldn't want them in that situation, that's horrible to wish upon someone you love. Maybe a stranger? I would also bring a hairbrush because who wants gross, knotted hair. No hairbrush equals dread locks.
If not modeling, what would you be doing?
I would be sitting in an old, boring high school, walking in the halls like a zombie finishing out my senior year.
Explore other rising stars (plus all the big names) in our extensive Model Manual, featuring runway pics, glamorous editorials, model bios, career timelines, and more.