Meet the New Girl Exclusive: Balenciaga's Runway Star Maria Bradley Once Chopped Her Hair Off and Blamed It on Her Dog
After scoring two back-to-back exclusives for Versace and Balenciaga, Bradley is now the premier face to watch.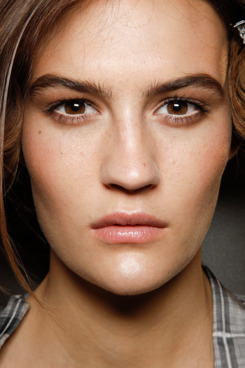 Let's start at the very (although recent) beginning: Seventeen-year-old Maria Bradley made her debut opening Alexander Wang's spring 2012 show in New York, and continued to put in appearances at Tommy Hilfiger and Proenza Schouler. The Wichita native then skipped London Fashion Week to work exclusively with Donatella Versace for her Versace and Versus lines in Milan. And earlier this morning — in what is an extremely rare feat — Bradley booked yet another exclusive for Balenciaga in Paris. Maybe it's her runway-perfect proportions that casting directors can't stop raving about, or maybe it's her laid-back Midwestern personality, but whatever the reason, this American high-school senior just became the premier newcomer to watch. We caught up with Bradley, who's newly signed with DNA Models, for her first-ever interview right before she flew to Paris to work with Nicolas Ghesquière. Read about what it was like to work with Ms. Donatella, what she finds most surprising about the modeling industry, and more, after the jump.
Explore other rising stars (plus all the big names) in our extensive Model Manual, featuring runway pics, glamorous editorials, model bios, career timelines, and more.
BEGIN SLIDESHOW