Meet the New Girl: Svea Kloosterhof Likes to Eat 'Very, Very, Very Dark Chocolate'
Stumble Upon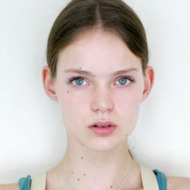 At age 15, Svea Kloosterhof was discovered through a Dutch social networking site, Hyves. She worked in her native Amsterdam for two years before flying to New York in late 2010, where she signed with Marilyn Agency. Shortly thereafter, Karl Lagerfeld booked the delicate, cherubic beauty for his Chanel pre-fall 2011 show, followed by his spring 2011 couture, fall 2011 ready-to-wear, and cruise 2012 shows. Meanwhile, Kloosterhof was placed on a catwalk exclusive for Calvin Klein's fall 2011 show in New York and, most recently, she signed an exclusive with Marc Jacobs for this past New York Fashion Week. We checked in with the soft-spoken teen right before fashion week castings to talk about her love for Johnny Cash and irrational fear of boats.
What do your friends and family make of your modeling success?
My friends don't really get it. Time and time again I have to explain it all to them, but in the end, I think everyone is happy for me. Of course there are always jealous people, but as long as my family and close friends don't judge me on my work, I'm content.
What was the last thing you bought?
A vintage fifties dress, black with little white flowers. I tried it on, and it fit perfectly! I may even be able to use it for castings.
What scares you?
I'm extremely scared of boats. I don't mind the open sea, so much if I'm actually in the water swimming, but please, don't put me on a boat!
If you could follow the career path of one model, who would it be?
Natalia Vodianova because she achieved so much in her career. I'd love to help others to with my efforts also.
Word. What's been playing in your iPod lately?
Johnny Cash, Fleetwood Mac, Neil Young, Bob Dylan, AC/DC, and The Tallest Man on Earth are some of my favorites. But I also enjoy a lot of Dubstep and Goa, too. Oh, also, I started playing the guitar recently, so I am listening to more guitar-driven music.
If you could meet anyone dead or alive, who would you meet?
That's easy: Johnny Cash. He is my hero. I can't stop listening to his music and his beautiful lyrics that always surprise me.
Guilty pleasure?
Chocolate and ice cream. I like to eat very, very, very dark chocolate — and it's good for you!
Favorite style icon?
Clémence Poésy. I saw her in Cannes and her beauty was even more stunning in real life.
What is the hardest thing about modeling?
It's easy to form yourself around your clients, but you have to be yourself. People can sense when you're being fake.
Explore other rising stars (plus all the big names) in our extensive Model Manual, featuring runway pics, glamorous editorials, model bios, career timelines, and more.