Model Diary: Sebastian Sauvé Works Hard and Parties Harder
Sigh, the life of a male model.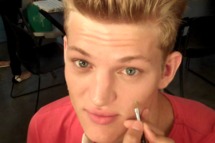 We've had some pretty wild model diaries over the years, but Sebastian Sauvé's installment just might eclipse them all. The rising face not only documents the hard-knock life of a male model during New York Fashion Week, but also the joys of partying hard post-shows. In the video, watch Sauvé and his comrades do some "really awkward weird things."