Models Mime a Cocktail Party With a Lifeguard and a Mermaid at Thom Browne
Mermaid: front and center.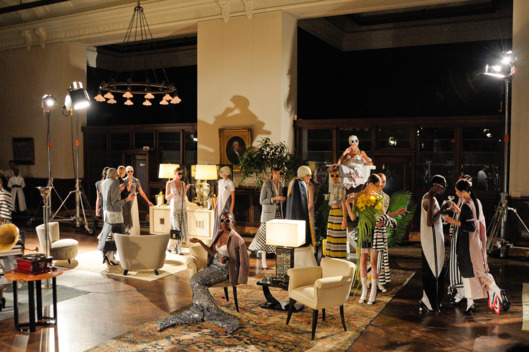 If Carine Roitfeld is tired of fashion shows that feel like "a medical conference," she should go to one of Thom Browne's. She'd have to stand as she watched, and front row is first come, first serve, but she'd get a show. This afternoon, when guests to Browne's spring 2012 womenswear show walked into his show space, a beautiful airy room in the third floor of the New York Public Library, the first thing they saw was a mermaid in a white bustier and a sequined silver tail holding court in the center of the set. Behind her was a lifeguard perched on a stand. To the right of her was a model in a long white feathered dress wearing a white hat adorned with two white dove figures. She stood in an oversize birdcage.