Nicola Formichetti's Clothing Line 'Only Exists in the Virtual World'
See it being modeled by a virtual version of Rico the Zombie boy.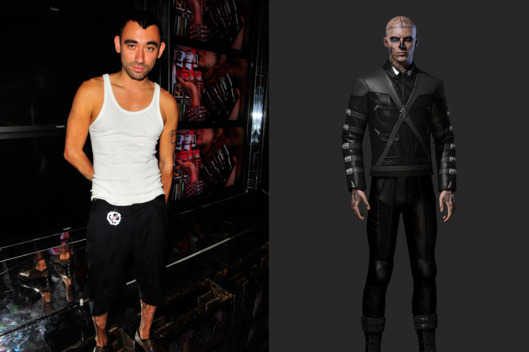 If you want to see clothes from Nicola Formichetti's own brand, which he first alluded to in a blog post in July, you can at his pop-up shop currently open at 57 Walker Street in Tribeca. Just look at the screen on the right as you walk in, where you will see CIG footage of Rico wearing all-black, walking up and down a runway. "This is my first design from my own name. and it only exists in the virtual world. I designed it for an avatar," Formichetti told us last night at a party celebrating the shop, where guests sipped Belvedere cocktails and gamely posed for pictures to post live to Tumblr. "I'm developing a line with [gaming company] CPP where you create your own avatar and you can buy it for your own avatar. So it doesn't actually exist physically," Formichetti continued. Nor will it ever, just in the EVE Online game. The one-off outfit being modeled virtually by Rico will go up for auction with proceeds benefiting charity, and Formichetti will create more virtual outfits that players can buy to dress their characters after that. Past looks have been auctioned off for around $70 and up, but the Rico look is expected to go for "considerably more than that," a rep for the shop told us.
And if video games aren't your thing, you'll find plenty of "zombie panda" merchandise that exists physically in the shop. The zombie panda is a cartoon imagining of Rico and Formichetti. "So my character is Nico panda and then he's a zombie and I have another character that's daddy panda, who's my ex-boyfriend." Get it?