Ohne Titel Explains Where All That Yellow on the Runways Is Coming From
Which would be "a stronger view of women that you see culturally right now." It makes sense, really!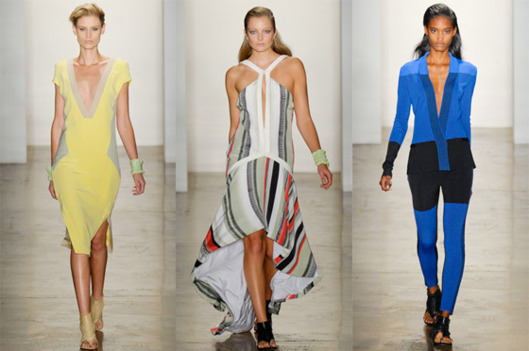 At this afternoon's Ohne Titel show, Carine Roitfeld was one of the last guests to slip into her seat on the same bench as the W crew, which included editor Stefano Tonchi, flashing his tanned, sock-free ankles under his gray suit pants; stylist Giovanna Battaglia, who dates Roitfeld's son, wearing a past-season Ohne Titel look; and the magazine's new style director, Edward Enninful. They were hardly the only bench full of fashion celebrities (fashlebrities? Does that word make you hate me as much as it makes me hate me?) in the room. Virginia Smith, Anna Wintour, and Mark Holgate from Vogue were there. So was V editor Cecilia Dean, CFDA executive director Stephen Kolb, Elle style director Kate Lanphear, and Times fashion critic Cathy Horyn. It was the best audience a designer could hope for, and for a label like Ohne Titel, the kind of crowd that really means something to the designers.
The designers both wore their own designs today, and said being women certainly affects their work. "When you see something, you have to personally love it and have a connection to it. And I think because we're women that sort of automatically happens," Adams said. "It's not someone outside saying, 'Is that wearable?' It's more, 'Would I wear it? Do I love it? Is it an interesting dress?'"