Phillip Bloch on the New Era of Private Fashion Shows
Are private shows a sign of a major shift?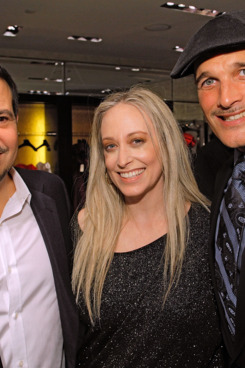 Stylist and reality-TV fixture Phillip Bloch thinks this season's trend of private shows (including Tom Ford, Rodarte, Proenza Schouler, and L'Wren Scott) is about more than fashion's elitism. "I think this season we are seeing the most huge changes in the industry," he told us at last night's Bergdorf Goodman Fashion's Night Out event.

Bloch thinks that these exclusive presentations reflect the speed of the digital age, where copycats get started as soon as collections go online. "They feel the fashions are being seen too quickly and so everyone is knocking them off," he said. "So I think it is about keeping it kind of under wraps and a little hidden and not in a snobby way — but that is a little what fashion is. It should trickle down over the seasons. For those who want to be immersed in trends and Über-fashionistas, that's great but the average person doesn't need to have the newest trend. I do believe in the power of couture. I believe in the element of Anna Wintour saying what's in, or Polly Mellen back in the day. Mirabella, Grace Coddington, or Diana Vreeland, I love that element. There is always going to be that elitist element to fashion, but it is about to change."