Project Runway Recap: Couples Therapy
Of course, this presents a couple of problems for the designers.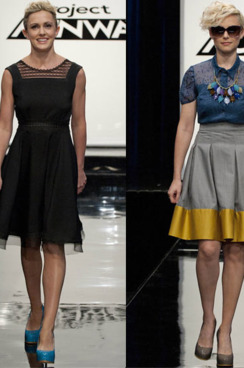 With this season's remaining contestants (finally) down to single figures, Heidi introduces their next challenge with the always-ominous announcement that it'll involve designing for NORMAL people. Then, to much consternation and flat-out fear from the designers, a bunch of nonplussed-looking men walk out onto the runway. Olivier, one of the last to choose his muse, says, "I was left with all these fat people, and that is fine, but not when I'm making clothes." Remember when Joshua was grumpy last week? Well, this week it's Olivier's turn to be Little Miss Bitchypants. He even let a few curse words loose, which, on the sliding scale of the two's temperaments, is just as bad as Joshua's flame-outs.
In his exit interview, Bryce says that while he's not convinced he's at the stage where he's the next Great American Designer yet, he'll be going home to lock himself in his room and listen to Gaga songs on repeat until he knocks out a fantastic collection. Judging by his recent Lincoln Center showing, he could do with "Bad Romance" on repeat a fair few more times.
BEGIN SLIDESHOW