Project Runway Recap: One Bad Acid (Print) Trip
Well, it was another seventies-themed challenge.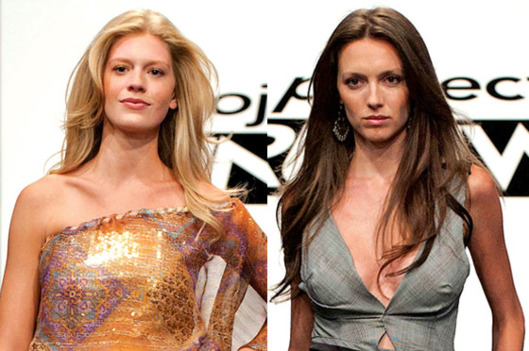 After the near-universal design failures evident on last week's retro menswear runway, the designers get a change to redeem themselves this week with a more mainstream merch-focused challenge that similarly nods to the past: creating seventies-inspired looks to be sold on show sponsor Piperlime's site. Suffice it to say, whoever loses this one will never, ever want to think about that particular decade again.

Watching the runway, there's a lot of shock and stink-face from the judges, suggesting it'll be a bloodbath similar to last week's. There's indeed a lot of criticism for the unpopular looks, with Joshua getting very snippy and defensive (perhaps because he doesn't want to take a fashion critique from guest judge Olivia Palermo.) Backstage, he tries to pass his shortcomings off as being a child of the eighties, but when the other designers reply that it's important to know fashion history, he has a flouncy tantrum redux and goes to sit by himself. Meanwhile, everything continues to turn up roses for Anya, as the judges decide her quick thinking and problem-solving skills justify another win. That means her jumpsuit will be sold on Piperlime, and even Michael Kors says he'll buy one, which is a promise we intend to hold him to. (Bert, who comes in second, will also get his minimalistic minidress produced for the site.) So it's down to Joshua and Anthony Ryan as the worst. Anthony Ryan's hippy-dippy granola-girl designs lose out, and he's given the auf, despite establishing himself as a front-runner earlier in the season. Tim gets tearful about his departure, as we're at that part in the season when he seemingly gets uninhibitedly attached to all the designers, but, hey, that's part of his charm.
BEGIN SLIDESHOW