Shop the Fall Trends in Our Latest Shop-a-Matic
Colorful fur, sixties-era shapes, and snakeskin are all huge for fall.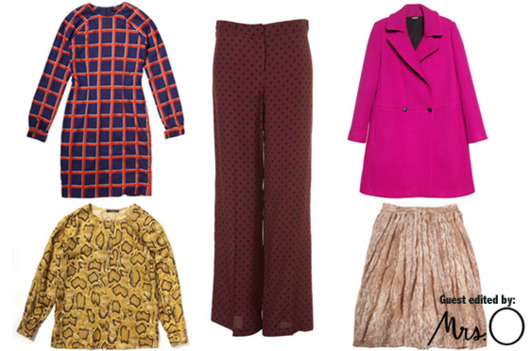 You've still got a few hours before spring 2012 fashion week kicks off, so why not take a look at what you'll be wearing now that it's fall? Our latest Shop-a-Matic covers the fall trends that have trickled into stores and are finally weather-appropriate. From the swinging sixties at Prada to colorful luxe furs at Gucci, this season leans toward feminine, refined dressing. For the pragmatist, down parkas are the outerwear of choice, while snakeskin and Mondrian-inspired color-blocking provide whimsical touches. To help sort through it all, we asked Mary Tomer Byun of Mrs. O to chime in with her picks of the season, some of which we might see on the First Lady in the next few months. Browse her picks here.
Silk Python Blouse by Etro
Price: $512
Why Mrs. O Likes It: "An autumnal mustard hue updates this animal-print top, which would work well in Mrs. O's more casual style repertoire."