Slideshow: The Week in Style Blogs
The best of the style blogs, from Portland to Paris.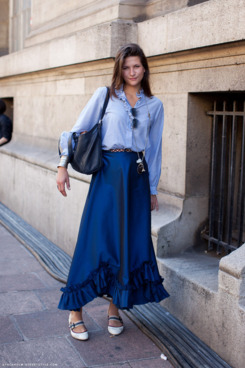 In light of all our street style coverage this week, we've decided to re-name our weekly style blog roundup to clarify its inclusion of much more than just street style. We obviously include personal style blogs, as well as those that defy any categorization; frankly, we don't care whether your picture was taken by yourself or your boyfriend or a possibly creepy stranger on the sidewalk. The main objective of this roundup is to cull the most interesting photos of great-looking people from the Internet, and, provided we have permission to use them, compile them here.
So without further ado, we present you with this week's images. The Indian summer weather brought out lots of breezy maxi skirts, as worn by Eva (shown), captured by this week's taste-maker, Caroline Blomst of Stockholm Streetstyle. There were a plethora of cute minidresses, crisp button-downs, and a very daring sheer blouse worn by Sarah Rutson, shot in Paris by Cafe Mode.