The Fug Girls: A Late Hilton and a Very Single Hearst at Alice + Olivia
Elsewhere in the room, the ubiquitous Corinne Bailey Rae checked out the collection and further solidified her bid to become the new Jessica Szohr.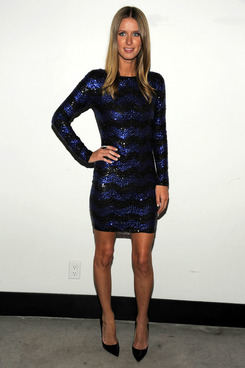 LeAnn Rimes is clearly tired. Not that she looked sleepy at the Alice + Olivia presentation on Monday, but rather that her weight has been an overpowering subject of discussion both at Fashion Week and in the tabloids, and we imagine it's pretty exhausting having to talk about it all the time. So when we overheard a reporter courageously—and tactfully—ask Rimes if she's been doing anything different lately to stay fit, we were unsurprised to see Rimes's face tighten into an I-know-what-you're-getting-at expression. "Nope," she said, tersely but politely. "Nothing different." The full-stop at the end of that sentence was pregnant with aggravated fatigue. No, more than just pregnant; it was knocked up with triplets. But apparently she won't be anytime soon, given that earlier we heard her say that she and hubby Eddie Cibrian are nowhere near discussing when to have kids. That's probably for the best—we're all so invested in the Zeyoncé (Bey-Z?) child that Hollywood may want to consider a baby moratorium until Music's Second Coming has arrived and been sufficiently feted.
But arguably the most important message of the night was from Lydia Hearst. "I'm not married. I'm SINGLE," she stressed to us, referring to the Imitation of Christ show in which spectators were led to believe she'd legally married actor Miles Fisher. "We're friends, and we needed a groom for the show, so I just called him up and asked him to marry me and next thing you know he got on the plane and did it." Hearst said the dress she wore, with a bustier made entirely of glass, was finished in just three days and required her to stand stock still for over an hour while they made a plaster cast of her body. That is going to be tough to top when she actually does get married, although Hearst stressed that she is really not focusing on a wedding right now because she is sans boyfriend. We're no experts, but when a dude flies across country to fake-marry you in public just for kicks while you are dressed in what amounts to a picture window, he might be throwing his hat in the ring. Especially when the minister was — she confirmed — totally legit. In fact, how does she know the marriage isn't secretly legal, we wonder? Hearst paused and frowned. "Hmm," she said. "Well… that would be … a shock." No, that would be a rom-com. Better hop to and sell that, Lydia, before Katie Cassidy snaps up the rights.