The Fug Girls: Justin Timberlake Talks Tennis with Anna Wintour at Oscar de la Renta
A look seemed to pass between them, perhaps unspoken commiseration about Roger Federer's dramatic loss, before Justin added supportively, "That was some amazing tennis."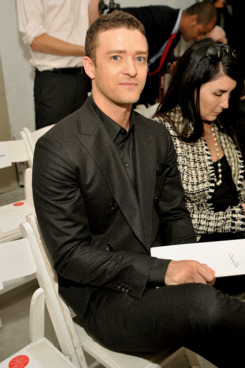 It's terribly bad form to mow down one of the VIP guests at a fashion show (or anywhere—except, perhaps, prison), so imagine how mortified we were at Oscar de la Renta on Tuesday when we hurried for our seat and almost plowed into Justin Timberlake as he was bringing it on down to Oscarville. Fortunately, the collision never happened, but it still took us a second to catch our breath and recover from so nearly bringing it on down to Shameletville.
See the Complete Oscar de la Renta Spring 2012 Collection
See Front Row and Backstage Photos from the Oscar de la Renta Show
See Video of the Oscar de la Renta Spring 2012 Show