Valerie Steele Picks the Most Iconic Dresses of the Twentieth Century
Her latest book, 'The Impossible Collection of Fashion,' comes out next month.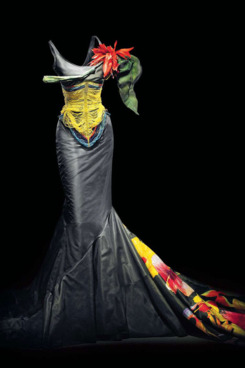 Following its exhaustive 2009 art tome The Impossible Collection, which culled the 100 most coveted artworks from the modern era, Assouline is releasing a glossy, fashion-focused sequel next week. In The Impossible Collection of Fashion, priced at a cool $650, Museum at F.I.T. curator Valerie Steele selects the 100 most iconic dresses of the twentieth century. The 144-page book is a stunner, featuring full-page photos and illustrations of flounced, beaded, padded, and feathered gowns from the likes of Balenciaga, Christian Dior, Rei Kawakubo, and John Galliano. Here's a sneak peek inside the upcoming coffee table must-have.
The Impossible Collection of Fashion (Assouline, October 1)