Video: Betsey Johnson Discusses Butt-Pads, Nicki Minaj, and T&A Backstage at Her Show
We chatted with Betsey about figure enhancements and her latest collection.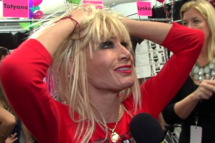 Backstage at Betsey Johnson's spring 2012 show, sandwiched between the champagne bar and platefuls of candy, was a long table covered with what first appeared to be doughnuts. But then we saw a stylist shove one into a model's bustier and plump up her breasts, leading us to realize that they were actually rows upon rows of neatly arranged bra pads. This was in keeping with Johnson's theme of the season, "T&A," which was emphasized with silver balloons in the shape of giant puffy Ts and As drifting gently around backstage. Meanwhile, Johnson was hand-drawing fake seams on the backs of models' legs, which required each model to lie face down on the floor while the designer crawled around on her hands and knees with a pen. And just before the show started, a frenzy near the door turned out to be Nicki Minaj herself, wearing (among many other things) a purple pretzel necklace and an unfathomable amount of purple body glitter nestled in her cleavage. Amid all the chaos, we chatted with Johnson about butt padding, her own T&A, and more.
See the Complete Betsey Johnson Spring 2012 Show
See Backstage and Front Row Photos From Betsey Johnson's Spring 2012 Show
See Video of Betsey Johnson's Spring 2012 Show