Video: Prabal Gurung Discusses 'Sensual Flowers' and Nicki Minaj
We chatted with the designer backstage at his spring 2012 show.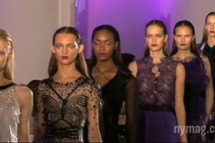 For his spring 2012 collection, Prabal Gurung was inspired by Japanese photographer Nobuyoshi Araki, who often depicted "sensual flowers" with "a subversive quality," the designer explained backstage at his show. Meanwhile, Nicki Minaj sat front row in a large, shiny hair bow that fit right in with the metallic neons on the catwalk. "I love Nicki Minaj!" gushed Gurung. Hear more about his inspirations in our video.
See the complete Prabal Gurung spring 2012 collection.
Watch the runway video from the Prabal Gurung spring 2012 collection.