Video: The View From the Front Row at Thakoon
See what the finale looks like from row one.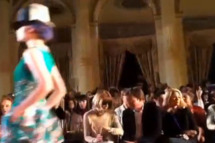 One of the best parts of a fashion show is the finale, when all the models come out and you can see the collection as a whole. An even better part of the show is when the designers come out to receive their applause, and you feel happy for all their hard work. Ahead, enjoy a video of what Thakoon's finale looked like from the front row,* seated squarely across from Team Vogue.
*Okay, fine, second row. But it was a part of the second row that had no chair in front of it so it was kind of like row one-and-a-half.
Earlier: Backstage Video: Thakoon on the Pink and Blue Hair and Cowboy Hats in His Spring Show