What Can Last Spring's Shows Tell Us About the Clothes We'll See at Spring 2012 New York Fashion Week?
Banana prints are probably not going to make an appearance again, for one.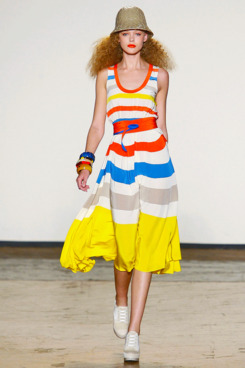 The spring 2012 shows begin in New York next Thursday, giving consumers a taste of what they'll be wearing a little less than a year from now. Trends take time to go from the runways to the streets, and designers must be tenacious if they want to convince consumers to ditch their seven pairs of skinny jeans in order to invest in new kinds of pants that don't look like sausage casings. With the new decade in its fifth show season, which items will shape up to be staples, and which were just fads? We analyzed some of last spring's biggest trends, ranging from banana prints to stripes to head-to-toe denim to neon, to predict what will stick around this season and what you can safely pretend never happened.
More Fashion Week Preview: 56 Designers Reveal Their Spring 2012 Inspirations
Ten Outstanding New Faces to Watch at Spring 2012 New York Fashion Week