Here Are 28 Items Street Style Photographers Can't Resist Shooting
Consider them catnip for street style folks.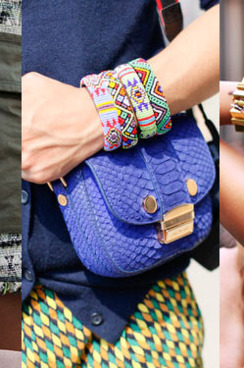 When it comes to appearing on a street style blog, all-stars like Anna Dello Russo, Taylor Tomasi Hill, and Shala Monroque need only to casually stroll pass a group of photographers to find themselves swarmed. But for the average person, attaining street style glory on the Sartorialist or Jak & Jil requires careful planning. Head-to-toe designer or the standard fashion fallback of all-black isn't enough to get your photo taken: It's all about a careful mix of high-low, bold colors, and clashing patterns, all of which needs to be accented with the right eye-catching accessories. After analyzing tons of photos from the latest Fashion Weeks, here are the recurring items and looks that are sure to get you snapped.
More Street Style:
Video: Watch Street Style Photographers in Action During Fashion Week
How Street Style Changed the Frontier of Fashion Photography
Ten Rules for Getting Shot by Street Style Photographers