Anna Dello Russo Wore Kanye West's New Collection Head to Toe Yesterday
Just three days after it debuted on the runway.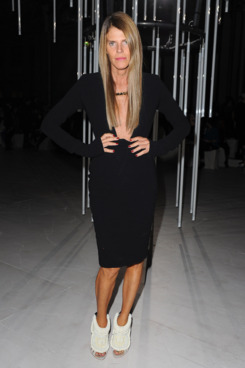 Anna Dello Russo arrived at the Alexander McQueen show yesterday dressed entirely in clothes from Kanye West's latest collection — right down to the furry Giuseppe Zanotti booties and gold Yeezy nameplate. Chances are she just borrowed the very same outfit that Eniko Mihalik wore on the runway, only she covered up any semblance of cleavage with her hair. While Anna isn't exactly the best person to demonstrate a collection's wearability, the dress does look quite nice on her (and, unlike most of the garments in Kanye's show, fits her really well).