Anna Wintour Reportedly Changed Her Clothes Twice in an Airplane Bathroom Yesterday
Clearly she doesn't subscribe to André Leon Talley's habit of "looking like a homeless person" at the airport.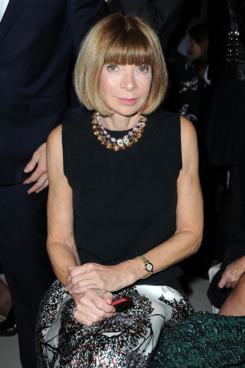 Rather than being caught in one of those embarrassing airport photos — you know, where the celebrity is fumbling with her carry-on bag and wearing stretchy pants, or just straight-up looking like a homeless person — Anna Wintour boarded a commercial flight to L.A. yesterday wearing a Louis Vuitton dress. However, once on the plane, E! reports that she disappeared into the bathroom to change into a pair of J Brand jeans and "a cute top," according to a fellow passenger. Shortly before landing, she supposedly changed back into her original outfit (see our earlier point about deplaning in stretchy pants). Then, once on the ground, bystanders said she had the baggage carousel stopped once her luggage appeared so that one of her helpers could heft it all off without having to chase the conveyor belt around in circles. Now, who ever said that Anna treats her assistants badly?