ANTM Recap: André Leon Talley Wore a Rice Paddy Hat
Maybe he bought it at American Apparel?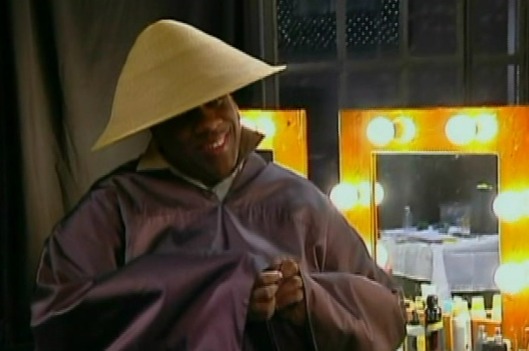 As a way to release stress, the remaining All Stars got to play a game of beachside flag football this week. Elbows were bared, previous eliminees re-appeared to make even teams, and two bashful-looking NFL stars showed up to keep people from killing each other. (Realistically, the trophy wife/girlfriend route is probably a more feasible career path for most of these girls — sadly, only Angelea seemed smart enough to realize that, and she did her best to make it happen.) The winning team's NFL star received a check for a charity of their choice; for the models, there was a mid-game photo challenge, the winner of which received pieces from Brittny Gastineau's jewelry line. Bre says that Brittny is an "incredible socialite who everybody strives to be," although there's a good chance she was forced to read that line from a producer's script under threat of hot curling irons.
At panel, there's positive critiques almost all around — André Leon Talley found most of the photos cinematic, reminiscent even of Kill Bill 12. (That such a film doesn't actually exist outside of ALT's beautiful mind is evidently of no consequence.) Allison pulled out a great shot despite being awkward on set, Bianca looked like a beautiful praying mantis, and it's even considered a good thing that Lisa's grabbing at Coco's crotch in their shot. This, of course, made the forthcoming elimination more than a little obvious: aside from Shannon's weak legs, the only bad news is for Bre and Alexandria, whose shot is deemed a slapstick socialite showdown. (Where's Brittny Gastineau when you actually need her?) After Dominique gets best photo, it comes down to the two, and Bre loses out despite the panel agreeing that they wanted to crop Alexandria's face out of the shot. It really says something when a prostrate body can beat you out, but as much as Bre's photos never hit the sweet Top Model spot, it was most likely her calming influence on hot-headed Bianca that led to her demise. She's clearly pissed, and leaves without a hug from Tyra — who actually looks a little sad about it, just for a second. Rejection can cut both ways.