Slideshow: The Week in Style Blogs
Including Jacquelyn Jablonski, Abbey Lee Kershaw, Giovanna Battaglia, and many more.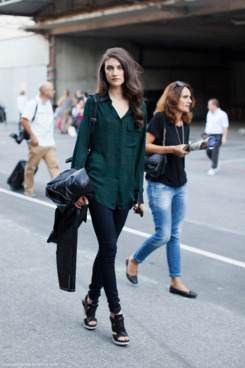 Leave it to Jacquelyn Jablonski to make an oversize, slightly wrinkled, untucked shirt and jeggings look like the epitome of chic, as captured in Paris by Stockholm Streetstyle. Speaking of outfits that are hard to pull off, Altamira caught Abbey Lee Kershaw in an orange crushed velvet coat that falls around her ankles, and Advanced Style shot a woman wearing a fabulous pink fringey hat. See more highlights from this week's style blog roundup in our slideshow.