Beyoncé Explores the Varied World of Tuxedos in Her 'Love on Top' Video
There's more to this look than looking like a waiter — at least sometimes.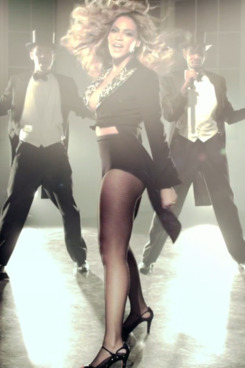 Beyoncé released a statement about her new "Love on Top" video that read: "I had an idea for the video based on some of my favorite male groups. I remember seeing videos from New Edition, The Jackson 5 and the Temptations, bands I love for their beautiful harmonies, and precise choreography and I always wanted to make a video and be part of a boy group myself." The sparkly Dolce & Gabbana tuxedo she wore to perform the song at this year's VMA's was a hint of things to come. In the video, Beyoncé wears all tuxedos except for the one requisite leotard. She really is evolving, friends. In this slideshow of all her video looks, the leotard walks alone.