Chris March Talks Halloween, Dressing Lady Gaga, and More
Also, see how he turns one piece of sequined fabric into four different looks.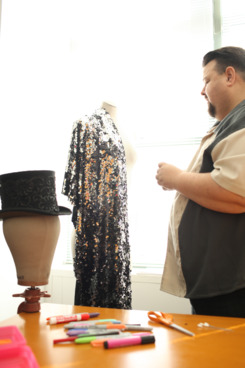 Chris March loves Halloween. Last year, he dressed up as the Grim Reaper. "The Grim Reaper can't be sparkly!" he says. "But it was the Grim Reaper with giant, giant skeleton hands." March, now the star of his own reality show on Bravo called Mad Fashion, which is in its debut season, is still unsure of what he will dress up as this year for Halloween. "I might do this German girl with giant pretzels that I have," he says. "I've been collecting all the different pieces that I need to make it. And I do have two giant pretzels that I bought a long time ago. When I find stuff that's interesting, I try to get a hold of it so that when I do need to make something really cool, I have it on hand. Like, I've been collecting this strawberry shortcake costume for many, many years."
March stopped by our offices recently to demonstrate the transformative power of one piece of sequined fabric, from which he fashioned four looks in under an hour. See the looks in the slideshow and hear what he says about making clothes for Lady Gaga, Real Housewives, Nina Garcia, and more.
BEGIN SLIDESHOW