Street Style: The Most Popular Looks at CMJ
A look at how indie music fans are dressing now.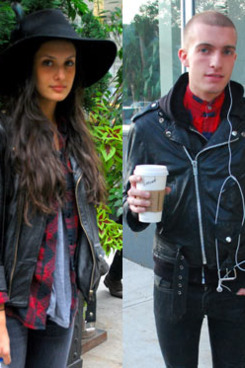 If you noticed an uptick in leather jackets around lower Manhattan and parts of Brooklyn last week, blame it on CMJ. The annual College Music Journal festival invaded venues across the city from October 18–22, ushering in bands with cute names, like So So Glos and Boy and Bear, as well as a whole lot of fashion. Not fashion fashion, but more of the offhand, rough-around-the-edges clothing that has always been synonymous with rock and roll (even if, these days, it's more about indie R&B). We canvassed the scene all week to see which of the classic style tropes were alive and well among the hipster set (again with the leather jackets!), so please enjoy this random sampling of plaid shirts, chunky glasses, and artfully clashed prints.