Say Hello to Erin Wasson's Midriff
It was out making the most of this weekend's warm weather, we assume.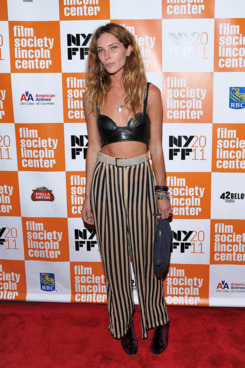 Erin Wasson attended a screening of My Week With Marilyn over the weekend wearing a black leather bra paired with loose, high-waisted striped pants, and maroon shoes. She added two gold pendants, chunky bracelets, and a large dark blue clutch.
Models can often pull off boho stylings with aplomb, but do these separates work together? Or is the balance of proportions/fabrics a little too forced?