Exclusive: The Internet Premiere of Inez and Vinoodh's Mugler Fashion Show Video of Lady Gaga
The singer slaps on the buck teeth and gets twitchy.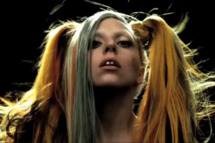 Preceding the Mugler runway show in Paris last week, there was a video by Inez and Vinoodh of Mugler muse extraordinaire Lady Gaga, who could not be in the show like she was last season since she was performing at a music festival in the opposite of Paris: Las Vegas. But audiences going to a Mugler show need some Gaga, and so they got it, in the form of a montage of the diva wearing bountiful and colorful pigtails and fake buck teeth. Her character seems to be that of a twitchy crazed person who happens to have a lot of time to get her hair done — like all hardcore fashion people! Kidding! Enjoy the footage here in the spot's Internet premiere.