Glamping: The Closest Vogue Will Ever Come to a Tent
By which we mean, not very close at all.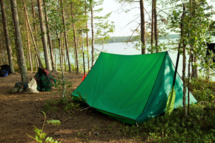 Vogue posted a guide to "glamping" today, for those times when "your chestnut- and marigold-colored Céline sweater inspires you to seek out fiery fall foliage, and you can hear your silver Christopher Raeburn parachute parka calling for a wintry landscape." Unsurprisingly, their packing list is less sleeping bags and s'mores and more stiletto-heeled boots and Hermès folding chairs (price upon request). And don't even bother with a tent — the magazine's recommended spots to visit include "rustic" lodges, teepees the size of a New York apartment (wait ... bigger), and a tree-house penthouse — which, presumably, comes with a chef to roast your marshmallows for you.
The Glamorous Girl's Guide to Camping [Vogue Daily]