The Fug Girls: Jessica Chastain's Style Evolution
Jessica Chastain's career blew up this year. Have her red carpet outfits had similar success?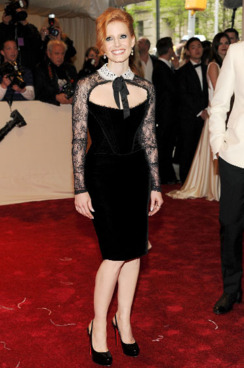 This time last year, we couldn't have told you whether "Jessica Chastain" was an actress or a character in a bodice-ripper who lost her maidenhood to the rough yet manly laird of the village. But now — thanks to a mind-boggling nine movies in 2011 alone, including The Debt, Take Shelter, and Texas Killing Fields — she's blown past "up-and-comer" into bona fide star who's one juicy romantic dalliance away from her own cover of Us Weekly. How did she get there? Hard work? A great PR team? A deal with the Devil? Damned if we know. But we can tell you what she wore along the way, some of which may have played a helping hand in her populist ascent. Join us for a look at Chastain's evolving wardrobe, from "I Bought This at Express!" to "this was express-mailed to my stylist direct from Paris."
You can read more of the Fug Girls at GoFugYourself.com.