Johnny Weir Walked at New Jersey Fashion Week
Which is still going on in Hoboken, should you be interested.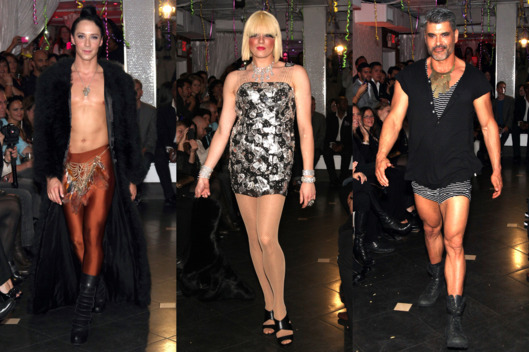 The spring 2012 shows may have officially ended last Wednesday, but New Jersey, ever a state to march to the beat of its own drum, mounted its very own second annual "fashion week" this past weekend. Attendees gathered at Room 84 in Hoboken to watch folks like Johnny Weir and photographer Mike Ruiz, all vigorously shellacked with makeup, walk a linoleum runway beneath curly ribbons hanging from the ceiling. Apparently, fashion events continue through this Wednesday, and tickets are still available for purchase should you be seeking something to fill the dark void of runway shows in your life post-Paris.
About New Jersey Fashion Week [NewJerseyFashionWeek.com]