Karlie Kloss Is Paris Fashion Week's Top Model
19-year-old Kloss worked her lace-swathed bottom off this week.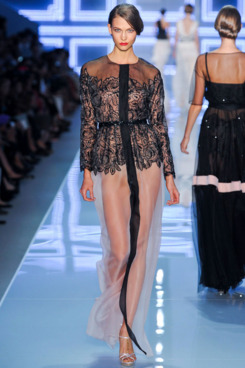 This year's Paris Fashion Week included special cameos by supermodels like Kate Moss, who closed what might be Marc Jacobs's final collection at Louis Vuitton, and Gisele Bündchen's close for Givenchy. Meanwhile, Natalia Vodianova had the honors of opening for the latter show, and also bookmarked Stella McCartney's runway. Yet the dominance of Karlie Kloss cannot be denied. The 19-year-old American, who's getting more mature bookings by the day, landed the opening slots at Jean Paul Gaultier and John Galliano as well as the closing slots at Christian Dior, Lanvin, Elie Saab, Gareth Pugh, and Roland Mouret. See all of Karlie's looks in the slideshow ahead.