Meet the New Girl Exclusive: How Gisele Bündchen 'Rescued' Lara Mullen at Givenchy
Stumble Upon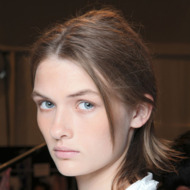 Seventeen-year-old Lara Mullen was scouted by Premier Model Management a mere two weeks before New York Fashion Week this past September. Born and raised in the county of Northamptonshire, England, she was initially unsure about her potential as a model, but decided to give it a go, flying to New York without any formal training, yet scoring catwalk slots at Alexander Wang, Vera Wang, and Theyskens' Theory.* On her home turf in London, the 5'11" model met with revered casting director Russell Marsh, who booked her for Richard Nicoll and Jonathan Saunders, as well as the coveted Prada exclusive for Milan Fashion Week. Mullen's final leg in Paris cemented her status as this season's breakout star when she walked for a select group of top designers: Chloé, Givenchy, Dries Van Noten (also cast by Marsh), and Céline. In her first sit-down interview since the spring collections, Mullen opened up about her extra-large feet, working with Madame Miuccia, and keeping up with her schoolwork.
If you had to pick one show, which was the most memorable?
Alexander Wang in New York was the first fashion show I had ever walked in, so that was memorable, and the Prada exclusive was such a huge opportunity for me. However, one of my favorite stories would be from the Givenchy show, when my shoe broke before the run-through. A very chivalrous Gisele Bündchen rescued me! She told the dressers, "She needs new shoes!"
Tell us a little about your childhood.
I grew up with my parents and my two younger sisters in Northamptonshire, England. My mother works as a teacher and my father as a school administrator. At one point, we were all at the same school, which was a little strange because the school only had 80 students. As a child, I spent a lot of time with my cousins who live just around the corner from my parents' home; we're all still extremely close and meet up regularly to watch NCIS and eat cherry Bakewell tarts. At school, I was a little bit of a geek. I guess you could call me an academic.
You were discovered just this past August, right before New York Fashion Week. What were your thoughts about becoming a model prior to your breakthrough?
I was scouted twice by Premier within the space of a week. I had never even considered becoming a model before then, so I hadn't thought much about it. Even when I was scouted, I thought it would take a while to get started, but apparently not! From what I have learned in the short time I have been modeling, it is a career that seems very "in the moment," so you have to grab the opportunities when they present themselves.
You're finishing up your A levels right now. How are you managing to juggle a burgeoning modeling career and your school work?
It's tough, but I have lots of people supporting me. My teachers send me work, which I do when I can, but I really have to concentrate to make sure I don't fall behind. My friends have all been wonderful, too, by picking up work for me and taking notes in class.
Premier's Anne Wilshaw gave you a huge compliment when she said you reminded her of a young Stella Tennant.
I'm extremely flattered to be compared her. I only can wish that I have a career as long and successful as hers.
How did you score that exclusive with Prada in Milan?
The casting process at Prada took a long time. I arrived at the casting one day with my Aunty Pauline as my chaperone and had to show the Prada team my walk, and then I had to wait to see whether any of the show looks fitted me. There was a problem with my feet not fitting the shoes, so I was only confirmed for the show right at the very last minute when the in-house team finally managed to fit me into a pair! Working with Ms. Prada was lovely, though. She gave me a huge smile before I stepped out onto the runway.
Make any new buddies during Fashion Week?
I was seeing a lot of the same familiar faces at the different shows, which meant that there were always people that I could strike up a conversation with. At Alexander Wang, I met the American model Maria Bradley who, like me, had never walked a show, so we bonded over our shared experience. I also got to hang out with Marte Mei van Haaster and Erjona Ala, who both walked in many of the same shows as I did.
What's your diet and fitness regime like?
I try to stay active. I walk a lot and just before New York Fashion Week I spent four days climbing hills in the Peak District. I attend a weekly dance class and I stay active by helping to run the sports summer club at my local school sports hall, Libero. As for my diet, I'm fortunate to be able to eat what I like for the time being, although my chaperone during the Paris shows, Mariella, got me hooked on her healthy organic mackerel salads!
What are you reading now?
At the moment, it's my math textbooks Cor 3 and Mechanics I. I'm actually trying to find the time to read the book Tuesdays with Morrie by Mitch Albom. I have always meant to read it and bought it when I was in New York, so now I just have to find the time!
If you could meet anyone dead or alive, who would you like to meet?
Prince Harry seems lovely, and his late mother Princess Diana grew up in Northamptonshire, so we would have lots to talk about.
What scares you?
[Laughs.] A lot, but for the time being, catwalk shoes! Because I don't really have much practice walking in heels, being more of a flats girl at heart, I'm worried about falling and becoming fashion road kill.
What's your least favorite feature about yourself?
My feet are a huge pain! They're so big! I'm a European size 43, so the runway shoes can be a problem, although I can squeeze into a 41.
Guilty pleasure?
I always sing really loudly in the shower; and not just catchy tunes, but ballads from musicals like Les Miserables and The Phantom of the Opera. In fact, my father warned Mariella, who accompanied me to Paris, about it.
What's one thing you have in London that you can't find in New York, Milan, or Paris?
Cadbury's Crunchy Bars. They are a good-luck treat; I used to eat one before every exam at school. But you can only get them in England, which is just as well!
Explore other rising stars (plus all the big names) in our extensive Model Manual, featuring runway pics, glamorous editorials, model bios, career timelines, and more.
*This post has been corrected to show that Northamptonshire is a county, not a town.