Michelle Obama Wore a Sequin-Covered Bow
With a bright pink Target dress.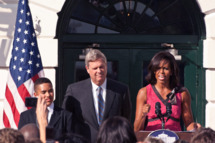 After a morning's work painting a military serviceman's apartment (in a striped pink shirt and dark denim jeans), Michelle Obama hosted an event at the White House to promote healthy eating in schools. She wore a sleeveless bright pink dress from Target, with black trim and a large black bow pin that featured a sprinkling of silver sequins. See full images of both looks in the Michelle Obama Look Book.