Nicole Scherzinger Replaced Christina Hendricks As the Face of London Fog
(That's) what's new, pussycat.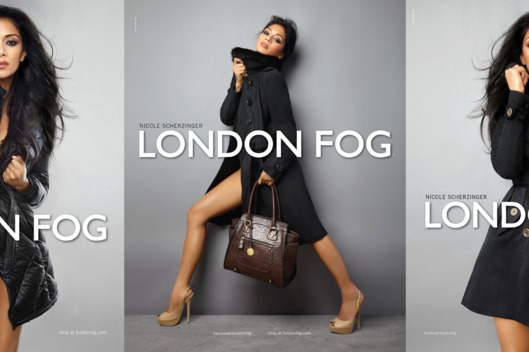 After a year's worth of Christina Hendricks ads, outerwear brand London Fog announced today that the new face of their print campaigns is ex–Pussycat Doll and current X Factor judge Nicole Scherzinger. She'll appear in the ads for both winter 2011, out in next month's fashion mags, and spring 2012, embodying "confidence, sexiness, sophistication ... and the effortless glamour and style of London Fog," says the label's CEO. Please make your own puns about how she has whatever "X Factor" (randomness?) the label was looking for in a spokesmodel. A behind-the-scenes "Sizzle Video" of the campaign shoot reveals Scherzinger wearing hipster glasses and enjoying a wind machine. Like a true spokesmodel, Nicole says this makes her feel fabulous: "When I came out in my black [trench] all belted up and with high heels, I felt so cute, like a girl." Great.