Project Runway Recap: Commercial Is a Dirty Word
Um, where was this logic last season!?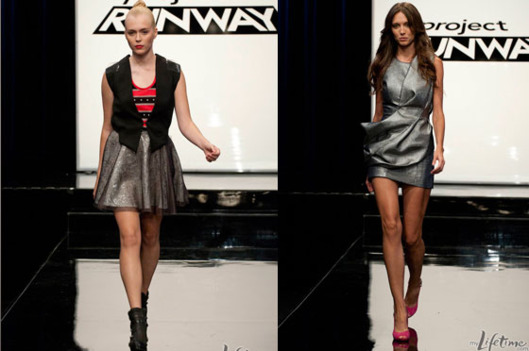 Woo! It's the final challenge already — and goodness, that snuck up on us (and seemingly on the designers, too). Heidi sends them all off to speed around Governer's Island on golf carts to find inspiration for three outfits, a mini-collection of sorts, to test their skills and readiness for the full deal at Lincoln Center. With that being a lot to achieve in just two days in the workroom, the final five each get to pick an assistant from the pool of the five most recently eliminated designers. That means our forever sentimental favorite Olivier is back, paired with Viktor, and he's even snarkier now that he's outside of the Project Runway pressure cooker.

Zoe Saldana joins the panel for the final runway and judging, which of course becomes an emotional affair, with the designers feeling compelled to speak about their hard-knock lives and how much they need the prize. They're also all forced to pick a final three to go on in the competition from among themselves, which has become such a tired, nasty divisive tactic. At this point though, it's clear the final five are just too tired to care that much — neither Kimberly nor Laura (who aren't picked at all by their peers) seem bothered in the least. The judges seem to agree, and this week's elimination comes down to those two. Though Heidi keeps to the line that they'll only be three finalists showing at NYFW, they decide to let four folks make their collections, and so expect one more extra-cruel cut just prior to the Lincoln Center showcase. In the end, it's Laura who gets the auf, her childhood dreams getting crushed in the meantime. Except of course, not really, because her collection showed as a decoy line and proved to be one of the better lines presented. (Spoiler: Unfortunately, that's not saying much.)

BEGIN SLIDESHOW