Project Runway Recap: Moving For Four-ward to NYFW
Stumble Upon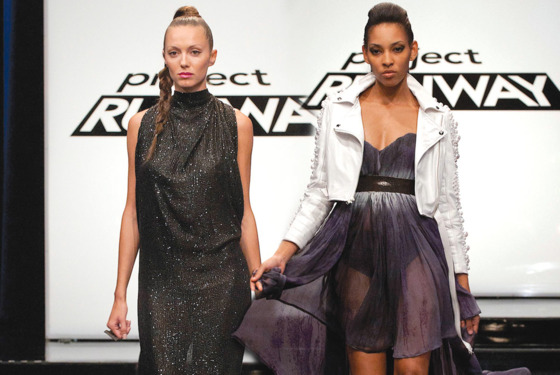 Project Runway
Season 9 • Episode 13
Complete Series Coverage on
Vulture
With what seems like a ridiculously short amount of time at their disposal (five weeks to make a ten-look collection worthy of showing at New York Fashion Week), the final four designers get sent on their merry — if somewhat dazed — way home. Of course, they'll be back in the city a few days before the shows begin to present the judges with a flavor of their full lines in hopes of avoiding one last elimination. (At this point, it's like just have them make a dress blindfolded or using only their left foot, as they're all too spent to care.) Heidi sternly reminds them that only three lucky folk will get to present their collections at Lincoln Center.
So Kimberly and Anya get swish rides to the airport in town cars, poor NYC-dwellers Viktor and Joshua have to lug their suitcases home via the subway. That's never fun.
After visiting Kimberly in Maryland and liking the authenticity of her collection, Tim jets off to Trinidad for his midpoint crit with Anya. (Even on a free vacation, he's wearing a full suit to the beach.) Unfortunately, Anya's way behind on her work, and only has a bunch of beachy fabrics to show him. It seems she has designer's block, unable to draw any new shapes — and even if she could, it would probably be a challenge to construct them as she's only been sewing for four months (remember?). Then it's back to NYC for Tim to meet with Viktor and Joshua, and his evaluations follow a familiar good cop, bad cop pattern, respectively (an act for which we encourage Tim to a policeman's cap in the future — it would suit him). Viktor is, of course, on track and sewing everything just perfectly, while Joshua fares much worse, presenting a gimmicky pile of headache-inducing neons and a print so homely it makes Tim want to weep. "Where's the sex?" he asks, nonplussed.
During these visits with the designers, in what is now Project Runway tradition, Tim also meets, and no doubt charms, all four finalists' family and friends. (Let's just say a love of tanning seems to run in Joshua's family.) In each of these segments, each contestant explains in a solo interview that they're motivated to succeed in the industry because of deceased relatives, which raises the awkward prospect that next week three dead mothers/brothers aren't going to prove sufficient motivators. Sob stories: not always necessary — even when they're milked with the best intentions.
With NYFW actually happening midway through the season's airing, the designers reunite for the final judging still not entirely aware of all the late-game nastiness they threw at each other on-screen. (We miss those early days where the likes of Wendy Pepper had to come back for the finale with the full extent of her evil behavior on the workroom table.) So they're still playing nice, and not even criticizing each other's collections too much — though of course there are critical eyes all around when garment bags get unzipped for the first time in their new workroom. There's another round of crits from Tim as they choose and prep the three looks they're presenting to the judges — it's progress all around, but many of the same overriding problems are still evident, most clearly in Anya's lackluster line. She has a cry about it. And there's lots of last-minute fitting and flailing, just because.
Judging commenced, but that's it for next week's finale because (SHOCKER) Heidi et al. decided to let all four show their collections after all. Basically, they couldn't bring themselves to cut pretty little Anya, but can she pull things around in time to bring the win back her way?