First Look: Ranjana Khan's Capsule Jewelry Collection for The Limited
These statement necklaces and cuff bracelets come just in time for holiday party season.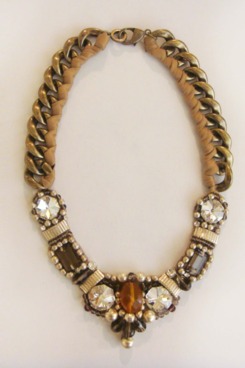 Jewelry designer Ranjana Khan has previously worked with top-tier designers like Alexander McQueen, Alber Elbaz, and Jean Paul Gaultier, and sells pieces from her eponymous line at Bergdorf Goodman and Neiman Marcus for $300 to $600. But come mid-November, she's launching a lower-priced capsule collection of bracelets, necklaces, and earrings with The Limited. The fifteen-piece collection features signature elements of Khan's designs like embroidered beads, bits of woven ribbon, and chunky semi-precious stones, but prices fall at a much more wallet-friendly $69–$120. Her cuff bracelets, chandelier earrings, and statement necklaces make for festive holiday cocktail attire; they're also great gifts.
New Collection: Ranjana Khan for the Limited [Gastro Chic]