Video: Regis Philbin Gets Shirtless for a Fascinator-Wearing Snooki
Daytime TV is magical.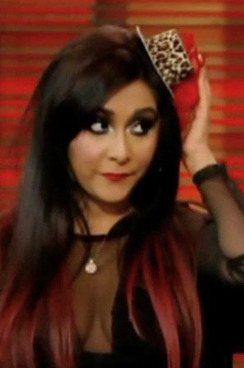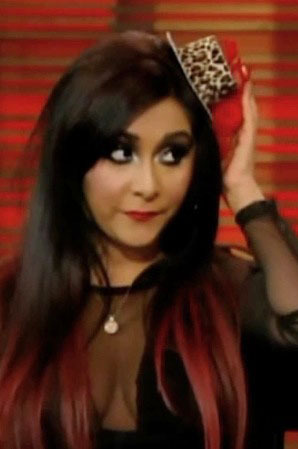 As part of the promotional tour for her new fragrance (most likely the enticing aromas of sweat, pickles, bad dance music, and desperation), Snooki made an appearance on Live with Regis and Kelly this morning. Her otherwise rather sedate outfit's focal point was a tiny leopard-print hat adorned with a large red ostrich feather worn just for Regis — and he liked it. She also brought gifts, as any good guest should; Kelly got a large leopard-print pashmina, and Regis got a skinny silver tie. Of course, discounting modeling jobs that come with their tuxedo line, guidos apparently don't wear ties unless they're performing strip-tastic routines. So this left Regis no choice but to unbutton his shirt. Watch the magic happen in the clip.

Though it's impossible to pick one or even a couple of highlights from this video, Regis's proud chicken pose at the end is wonderful.