More Street Style From Paris Fashion Week
As the heat wave subsides, out comes the all-black.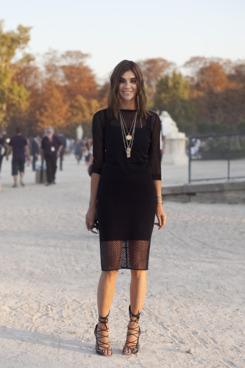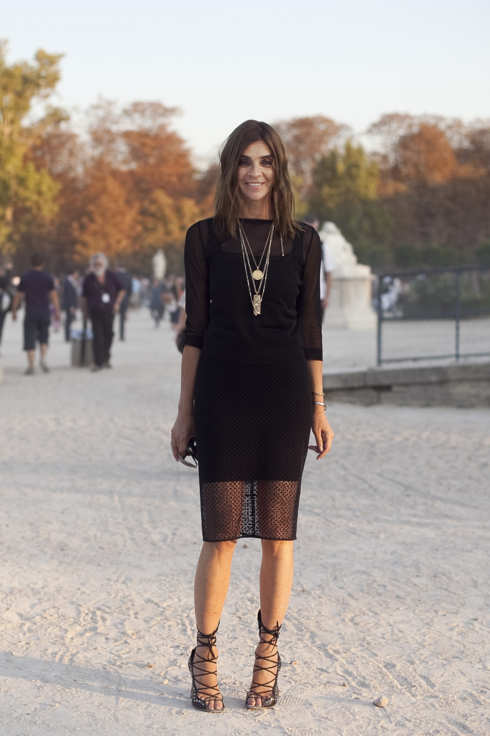 As Paris Fashion Week continues, so does the endless parade of camera-ready outfits outside the shows. Dark colors, especially ensembles of all-black, seem the most ubiquitous — perhaps because it's an instant formula for conveying that polished yet not-trying-too-hard Parisian sophistication. Model Arizona Muse looks absolutely fetching in a simple tee with a maxi-length skirt — extra points for that jaunty bowler hat — while Carine Roitfeld plays to her brand of hard-edged sex appeal in a tunic with a suggestive sheer hem and sky-high strappy stilettos. Leigh Lezark (with bangs!) doesn't stray too far from her goth-tinged signature style, in midnight-hued lace, and W's Edward Enninful looks dapper in noir. That's not to say color is completely absent from the City of Light: Daphne Hezard, editor in chief of L'Officiel, brightens things up in a poppy-and-tangerine-hued floral frock, while Giovanna Battaglia, fashion director at Vogue Gioielle and Vogue Pelle, is a monochromatic study in autumnal rusts and browns. See these looks and more in the slideshow ahead.
BEGIN SLIDESHOW