One Last Massive Slideshow of Detail Shots From Paris Fashion Week
Chunky cuffs, feathered fringe, stacked bracelets, colorful bags, and shoe porn galore.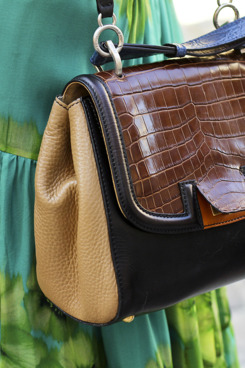 Anyone can say that great style takes root in that ever-elusive combination of polish and whimsy, but this slideshow proves it. An eye for detail — whether it's a slash of red lipstick, some clear nail polish, or a zipper left slightly undone — is what pulls together a combination of otherwise disparate or even uninteresting items. But outfit-making touches can also be elaborate, which is part of the fun; what's a fashion crowd without a feather-fringed leather vest, for example, or pearls affixed to the back of a woman's bare neck like a row of buttons? Like any true finale, this last Paris slideshow features some of fashion's biggest stars; it should satisfy your eye-candy needs for at least a few more days.
Related: A Massive Slideshow of Detail Shots From Paris Fashion Week That Will Make You Want to Go Shopping