One Pair of Corduroys + Five Stores = Five Fresh Fall Looks
See how five NYC boutiques styled a pair of bright red cords.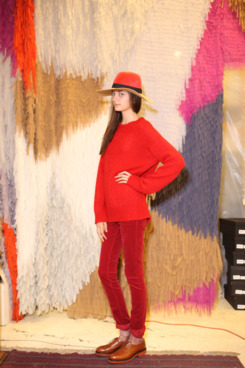 Despite the departure of warm weather and continuous sunshine, summer's bright colors are here to stay. Colorful jeans have been a fixture for the past several months, and vibrant hues have now made their way onto fall's perennial staple: corduroys. For this edition of "Take Five," Belgian-born Marilyn model Evelina Toteva took a pair of J Brand's pencil leg red cords ($172) to five NYC boutiques, where staff members styled the pants with the store's offerings. See what Blue Tree, No. 6, Edit, Creatures of Comfort, and Kirna Zabête did with the statement-making trousers in our slideshow.