Urban Outfitters in Trouble for Selling 'Navajo' Underwear
It's illegal for them to use the term, for several different reasons.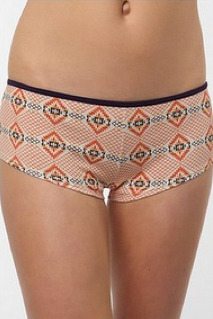 Urban Outfitters recently produced a bunch of Native American–inspired items with the word "Navajo" in their titles, including the Navajo Hipster Panty ($8, shown) and Navajo Socks (on sale for $6.50). In addition to drawing criticism for being un-P.C., the company has come under fire for using the word Navajo, which is trademarked by the Navajo Nation of Native Americans. What's more, it's actually illegal for companies to imply that their products might be made by Native Americans when they aren't, according to the Federal Indian Arts and Crafts act of 1990. Jezebel reports that the Attorney General of the Navajo Nation wrote to Urban Outfitters months ago asking them to stop selling the items in question, but is still waiting for a response.
Urban Outfitter's 'Navajo' Problem Becomes A Legal Issue [Jezebel]